If you are an avid reader of our blogs about packaging, you must understand how packaging can influence your branding. In fact, it is the first face of any product being placed on the retail store's shelves. 70% customers admit that they buy the product just because of its packaging. 63% customers say that packaging is as important as the brand itself.
A packaging tells the story of your product, encouraging the people to buy your products.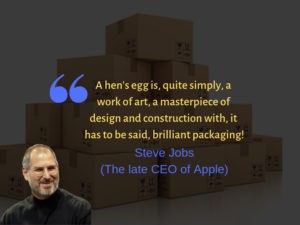 Here is a rundown of interesting product packaging quotes from industry experts that will encourage you to give your packaging an edge.
"Packaging can be theater, it can create a story"
 1. Steve Jobs(the late CEO of Apple)
"A hen's egg is, quite simply, a work of art, a masterpiece of design and construction with, it has to be said, brilliant packaging!"
2. Delia Smith (an English cook and television presenter)
"In the absence of any other Marketing messages, our packaging – comprised of the trademark, our design, color and information – is the sole communicator of our brand essence. Put another way – when you don't have anything else – our packaging is our Marketing."
 3. Philip Morris(An international cigarette and tobacco brand)
"Good design is all about making other designers feel like idiots because that idea wasn't theirs."
 4. Frank Chimero(A designer, author and illustrator)
"From packaging materials, through fibers, foams and surface coatings, to continuous extrusions and large-scale moldings, plastics have transformed almost every aspect of life. Without them, much of modern medicine would be impossible and the consumer electronics and computer industries would disappear. Plastic sewage and water pipes alone have made an immeasurable contribution to public health worldwide."
 5. Norman C. Billingham(a British Chemist working in the field of polymer chemistry)
"Simple is good."
 6. Jim Henson(Iconic American Puppeteer and Founder of The Jim Henson Company)
"Design can be art. Design can be aesthetics. Design is so simple, that's why it is so complicated."
 7. Paul Rand(an American art director and graphic designer, popular for his corporate logo designs)
"Good design is obvious. Great design is transparent."
 8. Joe Soprano(Graphic Designer For Oxide Design Co)
"If design isn't profitable, then it's art." (a Graphic Designer)
 9. Henrik Fisker(a Danish automotive designer and entrepreneur residing in Los Angeles, California.)
"Design is intelligence made visible."
 10. Alina Wheeler(Design Coach and an Author of the Books Like Designing Brands Identity and Brand Atlas)
"Considering clean packaging in the context of enabling clean food, it's an opportunity for all brands large and small to tell better stories and demonstrate that the well-being of their customers is a top priority. That all depends on a brand's customer base though, and how much it values clean packaging. For example, Panera's website features a section called "food as it should be," which has a link to information about clean food, therefore Panera customers are more likely to respond to clean packaging messaging because they're aware of the clean food movement."