Welcome to iSellPackaging!
Your New Home for all your Retail Packaging Needs!
Manufactured in USA
iSellPackaging.com is a United States manufacturer of wide variety of plain and custom printed plastic bags, paper bags, shopping bags, grocery bags, tote bags, retail packaging, and food packaging. We specialize in custom printed and constructed evidence bags, currency bags, deposit bags, tamper evident bags, bank bags, and poly mailer bags. iSellPackaging can also print on laminated and coextruded poly material and films. Many uses and construction of these plastic bags for you include: plastic bags with handles, plastic bags with logo, plastic bags for clothes, paper bags wholesale, shopping, grocery, retail and food packaging, euro tote bags, laminated bags, non woven tote bags, vinyl, shipper, mailer, garment, dry cleaning, biohazard, biodegradable garbage, refuse, wine totes, agricultural, food packaging, trade show advertising, commercial packaging, industrial packaging, reusable eco friendly shopping bags, stand up pouches, logistic / transport specific woven and non woven packaging such as FIBC bags, bale bags for municipal waste, pallet covers and rail car covers. Plus a large variety of other types of retail packaging.
Read More
WHAT OUR CLIENTS ARE SAYING ABOUT US?
"Our company had been utilizing a 3rd party purchasing provider and our costs for many packaging items were very high. As a multinational company it has become increasingly more difficult to track expenses/costs. On one particular item we were paying triple over what we could have. iSell Packaging allowed us to decrease our costs without giving up quality,which is first and foremost for us" M.S.(Supply Chain Coordinator,Fortune 500 company)
Testimonial 4
Supply Chain Coordinator
"iSell Packaging showed us the value of consulting. In our healthcare business, we have been focusing on just that. We never realized the unnecessary costs associated with packaging, so we outsourced our supply chain to these professionals, and they saved us hundreds of thousands of dollars across our product lines" D.O. (Head of Purchasing for a 14 hospital system)
Sonoma family life
Head of Purchasing

"We decided to use iSell Packaging services because they provided the most cost effective pricing, while alleviating the storage and distribution challenges we had at our former facility.We cut costs across the board, and iSell Packaging helped us streamline across the supply chain" M.I. (Buyer for a 44 store retail sports chain)
Jeremy H.
Manager
CUSTOM TAILORING FOR YOUR PACKAGING PURCHASE AND NEEDS AT WHOLESALE PRICES!
High-quality packaging you can always count on!
REQUEST A QUOTE
Subscribe to our newsletter.
Get updates to news and events.
FREQUENTLY ASKED QUESTION
We will send you a very detailed pre-press proof in an Adobe Acrobat PDF format. This pre-press proof will show you the type of bag you are purchasing with the art sized to scale. You will also see the colors you have selected for your bag and how many sides they are printed on. Please keep in mind that all computer screens vary in size and color pitch. No image on a computer screen will every look 100% exactly like the final product. The same holds true for color printouts. Please see PMS color chart for just some of the available colors to choose from.
Yes, there is the availability to receive a full sized color printer proof before going to press. there may be a nominal charge for these prints. best to discuss in greater detail with your sales representative. Once again, color proofs are not to be used and a 100% representation of the final product. the technology used to produce the paper printout is vastly different then the technology used to actually manufacture the bags.
Naturally we want the printing job to come out as clean and sharp as possible. So, the better the art you can submit to us, the better your bags will print! We require high resolution (vector/line) camera ready art. (JPEG and GIF files are not camera ready art and are usually low resolution and pixilated)For the best results, you should try to submit your artwork produced in a industry standard program such as Corel Draw or Adobe Illustrator with an EPS file extension. Adobe Photoshop images are acceptable if you intend to print process images on your bags. However, these files must be submitted in high resolution. Any fonts you use MUST be converted to curves/outlines before saving the file. Failure to do so may result in the fonts defaulting to an alternative typeface that is different from the one you intended to have printed. If this occurs, it will be your responsibility for the error. If you can't provide camera ready art, our in house graphics art department and can design and/or recreated virtually any type of art you need. The cost for this service is by quotation only.
You, the client are responsible for the cost of the printing plates. We have our own in-house platemaking facility capable of producing the finest flexographic printing plates as well as rotogravure cylinders. You may want to contract in outside facility for the production and submission of your own plates, however, we cannot beheld responsible for errors, omissions, quality, loss, damage or usability of these plates provided from a third party.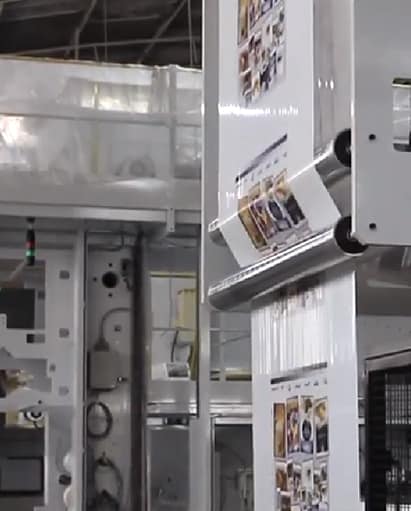 Get In Touch
Our team can deliver the packaging you need, when you need it. Complete your info here and we'll be in touch quickly.