Global Packaging Solutions manufactures a large variety of paper bags and eurotote bags. From recycled, environmentally friendly paper bags to high-end reusable glossy euro shoppers, we are guaranteed to have the paper bag that fits your needs, all at the most competitive prices around. All of our paper bags can be customized to your exact size and gauge specifications, with printing up to 8 colors including 4 color process print. Presentation matters, which is why promotional gift and paper bags are crucial to your company's branding. If your packaging does not looks it's best, it reflects on your brand. And on the flip side, if you use fresh looking, personalized custom bags, it lets your customers know you're committed to the highest quality and shopping experience, right down to how they carry your merchandise or gift.
Custom gift and paper bags are an opportunity for you to package your items in a distinctive, memorable way. Global Packaging Solutions offers custom logo printed shopping bags and gift bags. From custom plastic bags and non-woven drawstring bags to promotional bags made from kraft paper or recycled PET. We also offer a wide range of styles for your custom gift and paper bags to achieve the perfect image for your brand. Some of our most popular custom gift bags include: plastic bags, paper bags, nonwoven bags, frosted bags and matte bags.
Why buy your custom printed paper bags and eurotote bags from GPS?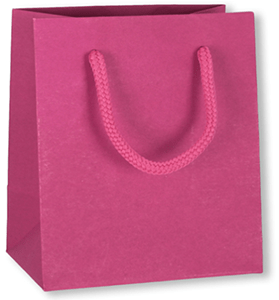 GPS is a worldwide leading manufacturer specializing in the production of paper bags and eurotote bags. With decades worth of combined experience, we will not be beat by our competition, Who you buy your eurotote bags from is as critical as the quality of the bag. A fair amount of consideration must be dedicated to production, delivery and style. Another consideration for your custom shopping bag is the bag's handles. It's how your customers will tote their new purchase or gift item, so consider the weight of what's going inside. GPS's bags are available with an assortment of handles: die-cut handles, twisted kraft paper handles, soft loop handles, macrame handles and clear tube handles. Need something special? You're in luck. We sell bags in every color, size and material.
Few retail packaging companies come close to offering the variety of our promotional paper bag selection as we have everything from duffel bags to drawstring backpacks to laptop bags.