Efficient Packaging Solutions for Investigation and Forensic Practices
We understand that collecting and preserving evidence is important in any investigation. We offer high-quality tamper evidence bags and forensic packaging to government forensics laboratories, security professionals, and law enforcement officials. Our packaging solutions for forensic and investigation purposes are developed using advanced sealing technology and durable performance films.
We aim to provide our law enforcement customers with high-quality packaging solutions for their investigation. We are continuously assessing our product offerings, looking for innovation, and updating supplies to stay updated with a dynamic field. We strive to remain the best at offering our customers outstanding packaging solutions for evidence collection.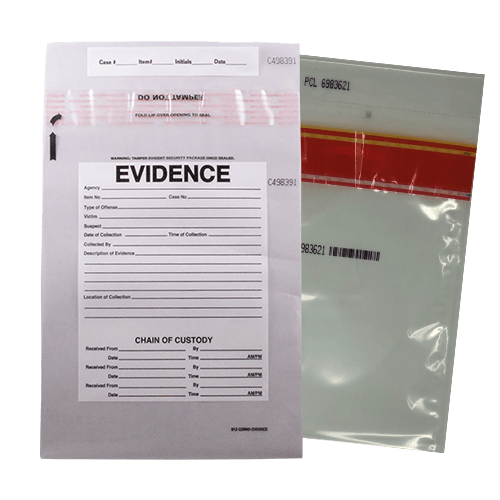 Ensuring Maximum Security
Our high-quality tamper-evident packaging is made from 100% recyclable virgin polyethylene plastic products, ensuring reliability and strength. Moreover, the bags feature a seal closure system and self-sealing press. It simply means that once the items are sealed, they will remain intact and safe until the pack is opened.
Besides, our bags also come with the highest level of tamper evidence. Visible VOID messaging and thermochromic ink show physical tempering as well as the use of cold or heat tamper technology. Simply put, any attempt to open the bag will leave visible signs instantly.
REQUEST A QUOTE NOW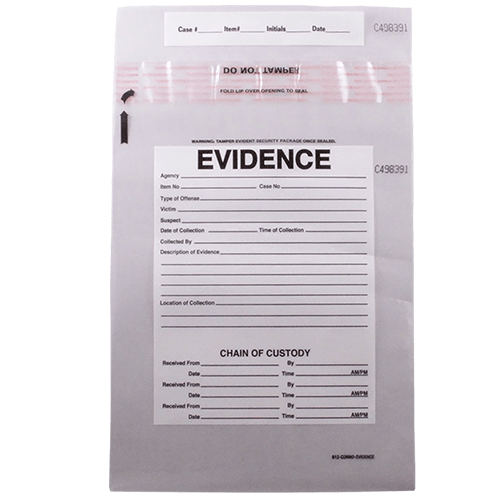 Product's Salient Features
Tamper-Evident Adhesive Closure
Void Tape Closure
Detachable receipt for record-keeping
Alpha-numeric sequential tracking system
Barcode tracking available
Custom Printing
Sing or Dual Pocket
ORDER NOW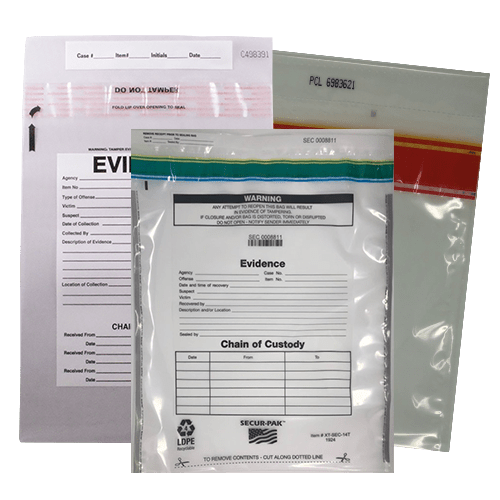 Why Choose Us?
iSell Packaging has been offering reliable evidence bags and commercial plastic bag solutions to businesses and organizations for years. We take pride in the fact that we are often the first choice of our customers when it comes to packaging needs. Here are some reasons to count on our packaging solutions.
Customized Packaging Solutions
We offer customized packaging solutions to meet your unique requirements. Tell us what kind of packaging you are looking for and how it should be designed. And we put our heart and soul to create the packaging accordingly.
Providing Visual Copy of Packaging Even Before Production
We also let you know what your evidence bags are going to look like. We will send you a very detailed pre-press proof in an Adobe Acrobat PDF format. This pre-press proof will show you the type of bag you are purchasing with the art sized to scale. At iSellPackaging, we have our own in-house dedicated graphic arts department capable of designing or recreating virtually any package design you require for your business. We have over 30 years experience working with the most popular graphic arts programs like Adobe and Corel Design Suites.
Outstanding Customer Support
We strive to provide the highest levels of service to all customers, and we are always striving to take ourselves and our clientele to us to higher levels of accomplishment.
Quality Packaging Solutions
Our expertise, skills, and knowledge and keeping pace with the latest trends and technical developments, let us serve our clients with the best packaging innovations, thereby saving money and time with reduces waste.
FREQUENTLY ASKED QUESTIONS
Of course! We have an entire sample department that can send you a sample of the evidence bag you are looking to make as well as samples of other bags that you might be interested in. Please contact your isellpackaging.com representative and request the sample bag that you require.
All domestically produced evidence bags have a lead time of 4 weeks. All imported bags have a lead time of 10 to 12 weeks.
We will send you a very detailed pre-press proof in an Adobe Acrobat PDF format. This pre-press proof will show you the type of bag you are purchasing with the art sized to scale. You will also see the colors you have selected for your bag and how many sides they are printed on. Please keep in mind that all computer screens vary in size and color pitch. No image on a computer screen will look 100% exactly like the final product. The same holds true for color printouts. Please see the PMS color chart for just some of the available colors to choose from.
Let Us Meet Your Evidence Packaging Needs!
Thank you for your interest in our tamper-evident bags. Please get in touch so that we can know your packaging requirements to help you suggest the right solution for your business requirements.
SAMPLE REQUEST
ORDER NOW