Protect & Promote Your Products with Custom Printed Stand Up Pouches
Custom printed stand up pouches have emerged as one of the most appealing and display packaging options. As the name suggests, this packaging type stands on its own with a strong bottom gusset and can be sealed with a zip closure to keep all the contents inside as airtight as possible. They also offer a great alternative to aluminum trays and cans.
At iSellPackaging, we offer a wide range of stand up pouches for your food products, oils, lubricants, and cleaning items. Made from heavy duty film structure, our stand up pouches ensure superior packaging solutions to help increase sales. All of our pouches are designed to be puncture and tear resistant avoiding damage on the shelf, in transit, or with customer handling.
With our high quality stand up pouches tailored to your products, you can differentiate your products and capture the attention of the consumers. After all, the market has become more competitive than ever before. Available with convenient features such as recloseable zippers and sliders, handles, built-in spouts, tear notch closures; this flexible packaging type can help drive your sales. Our packaging team will work one-on-one with you to create custom printed stand up pouches for your unique products. We are equipped with a full range of technical services including advanced pouch prototyping, product/packaging compatibility testing, drop testing, and burst testing. Order now to stand out in the sea of sameness!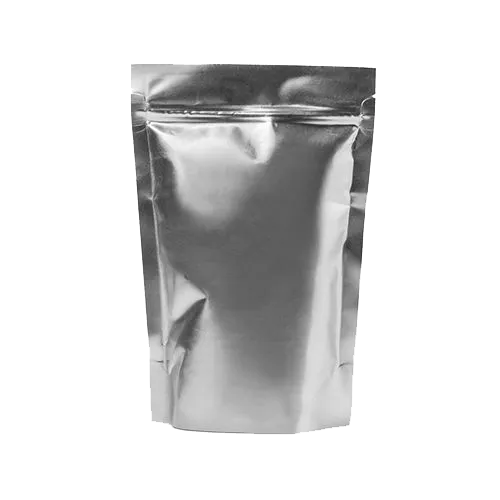 Our Stand Up Pouches to Let Your Products Stand Tall on Shelves
iSellPackaging custom printed stand up pouches make your products look appealing and unique. They are equipped with user-friendly features such as zippers, tear notches, hang and holes to encourage your customers to buy your products. Versatile and functional, these pouches are wonderful choices for dry, liquid, and powdered products.
Ask for a Quote Now!
High quality vapor barriers: We use specialty films designed block moisture, aroma and oxygen from entering or exiting the pouch.
Custom poly finish options: Choose from poly finish options including flossy,  matte, soft-touch matte, and metallic.
Optional hang holes: If your product does not sit on a shelf, you can utilize the optional hang holes for your packaging to be inserted onto pegs with our round or OSHA style hang holes.
Many varieties of films: There a many poly film options available including specialty, recyclable, high-barrier, and metallic PET films.
Quick open tear notches: Having a quick tear notch will help your clients open your packaging with ease with this optional addition.
Custom pouch sealing: One of the most popular styles on pouch closure includes press to close zippers, no zipper or a Certified Child proof zipper.
Pouch material substrates: Some of the many pouch films that are available include PET, PE, Recyclable PE, PCR, BOPP, and Metallic PET. Contact us to discuss the best option for your needs
Clouded, crystal clear windows & pouch bottom / gusset options: Consider a clear or clouded window so that your customers can take a peek to see what's inside your custom printed stand-up pouch. The most popular gusset options include K-seal, Plow bottom seal, a DOY seal, and triple sided seal (3SS).
Key Features:
Made from heavy-duty film structure
Ideal for food, cosmetics, oils, and cleaning products
Reasonable prices
Sample before ordering
Quick Turnaround
Customized Packaging
Our custom printed stand up pouches offer a wide range of packaging options to all ranges of retail/wholesale markets and products including all manners of states of product materials including solids, liquids and powders. iSellPackaging's stand up pouches offer your consumer the ultimate amount of convenience, and work successfully to extend the shelf life of virtually products. Maybe you are a new company trying to promote your brand? A great place to start looking is to create custom stand up pouches for your product marketing, or perhaps you are an established company looking to create specialty promotional pouches. iSellPackaging can help your company with relatively short runs, low minimum orders, quick turnaround times.
ORDER NOW
Why Choose Us?
iSellPackaging has been offering reliable retail packaging and stand up pouch solutions to businesses and organizations for years. We take pride in the fact that we are often the first choice of our customers when it comes to packaging needs. Here are some reasons to count on our packaging solutions.
Customized Packaging Solutions
We offer customized packaging solutions to meet your unique requirements. Tell us what kind of custom printed stand up pouch you are looking for and how it should be designed. And we put our heart and soul to create the packaging accordingly.
Providing Visual Copy of Packaging Even Before Productionn
We also let you know what your stand up pouches are going to look like. We will send you a very detailed pre-press proof in an Adobe Acrobat PDF format. This pre-press proof will show you the type of bag you are purchasing with the art sized to scale. At iSellPackaging, we have our own in-house dedicated graphic arts department capable of designing or recreating virtually any package design you require for your business. We have over 30 years experience working with the most popular graphic arts programs like Adobe and Corel Design Suites.
Outstanding Customer Support
We strive to provide the highest levels of service to all customers, and we are always striving to take ourselves and our clientele to higher levels of accomplishment.
Quality Packaging Solutions
Our expertise, skills, and knowledge and keeping pace with the latest trends and technical developments, let us serve our clients with the best packaging innovations, thereby saving money and time with reduces waste.
FREQUENTLY ASKED QUESTIONS
Of course! We have an entire sample department that can send you a sample of the stand up pouch you are looking to make as well as samples of other bags that you might be interested in. Please contact your isellpackaging.com representative and request the sample bag that you require.
All domestically produced stand up pouches  have a lead time of 4 weeks. All imported stand uppouches have a lead time of 10 to 12 weeks.
We will send you a very detailed pre-press proof in an Adobe Acrobat PDF format. This pre-press proof will show you the type of bag you are purchasing with the art sized to scale. You will also see the colors you have selected for your bag and how many sides they are printed on. Please keep in mind that all computer screens vary in size and color pitch. No image on a computer screen will look 100% exactly like the final product. The same holds for color printouts. Please see  the PMS color chart for just some of the available colors to choose from.
Order Your Stand Up Pouches Now!
We can make your products appealing with our innovative and customized stand up pouches and other forms of packaging. Our packaging solutions are backed by expertise, experience, and warranty. No wonder why we are trusted by companies of every size and type. Whether you are just a start-up or are looking to switch suppliers, get in touch now to see how our quality packaging can benefit your products.
SAMPLE REQUEST
ORDER NOW