iSellPackaging.com has been manufacturing and importing stock and custom vinyl bags to the retail packaging industry for many years. If you are in the market for custom vinyl bags of any size shape or color, please be sure to contact one of our uniquely qualified sales specialists to submit your project specifications and you will be connected with a iSellPackaging.com vinyl bag consultant who can help you customize any paper, plastic, or vinyl bag. We specialize in color back vinyl bags, PEVA vinyl and hemp bags, frosted die cut vinyl handle bags, vinyl cosmetic bags, slider zip vinyl bags, mesh cosmetic bags, vinyl rope handle and vinyl bags for textiles such as comforter and pillow bags. Our clear vinyl travel bags are TSA approved.
Custom vinyl bags are the clear choice for the upscale retail packaging look as well as providing for a safe and secure option for your both travel and theft prevention. Vinyl bags offer superior strength and durability and let the products contained within to do the talking for your business. Vinyl bags are ideal for cosmetics, perfumes and travel related retail products packaged to sell.
Our vinyl storage bags are available in a wide number of shapes, sizes and quantities, making storage for your products as hassle-free as possible. Adding your logo on the front of any of our custom made clear vinyl, mesh, or fabric bags to set your product apart from the rest and maximize your brand exposure.
Why buy your custom vinyl bags and cosmetic bags from GPS?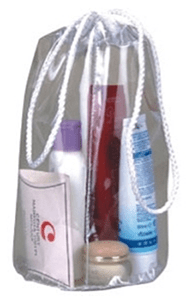 Due to our long history in manufacturing custom vinyl bags, iSellPackaging.com is able to offer you wholesale prices stock vinyl bags while still being able to offer you low minimum quantities. If you are considering more than 1,200 vinyl bags for your order, be sure to contact right away for bulk discount pricing. iSellpackaging.com has along history of being one of the most trusted suppliers of clear vinyl bags, vinyl cosmetic bags, vinyl storage bags, and custom vinyl bags online today. Providing a top of the line, top-quality packaging and storage solutions for your companies products, with the availability to add custom detailing and specialty features allowing you to take your custom vinyl bags to the next level.
Please be sure to contact us for all your custom printed retail packaging, paper bags, plastic bags, grocery bags, euro tote bags, non woven bags, vinyl bags, shopping bags, shipper bags, mailer bags, garment bags, dry cleaning bags, evidence bags, currency bags, deposit bags, biohazard bags, garbage bags, refuse bags, wine totes, agricultural bags, food packaging, eurototes, trade show plastic bags, commercial packaging, industrial packaging, product packaging, stand up pouch, environmentally friendly reusable shopping bags and a large variety of other types of retail packaging needs. We know that no two bags or customers are the same, so please give us a call and we will be happy to help you find the right bag for your business. Call us today at (516) 353-0398