img source : thesprucecrafts   
Here are some easy DIY ideas to glam up your plain tote bag.
A simple canvas tote bag not only stores your stuff but also acts as a stylish accessory to carry with. You can use it anywhere, whether it's a workplace or a beach. With plenty of fabrics and colors, they are some of the versatile bags to carry around for all your requirements.
And guess what— you can get creative to turn them into an amazing accessory. There are many ways to give a fabulous makeover to your plain tote bag. Here we have rounded up a few of them.
Ice Cream Stamping Tote Bag:
Make your plain tote bag look cute by placing ice cream stamps over them. You can use potatoes as a stamping tool. Here's how…
Carve circles for the ice cream and a triangle for the cone from your potatoes using brown paint color. Apply the "potato stamp" to the bag to transfer the impression.
Take another potato and carve a shape of ice cream to be placed on the top of the cone using pink paint. Now, place it over the top of the cone that is on the bag. This way, you can create more ice-creams.
Let it dry.
Your amazing ice cream stamping tote bag is ready.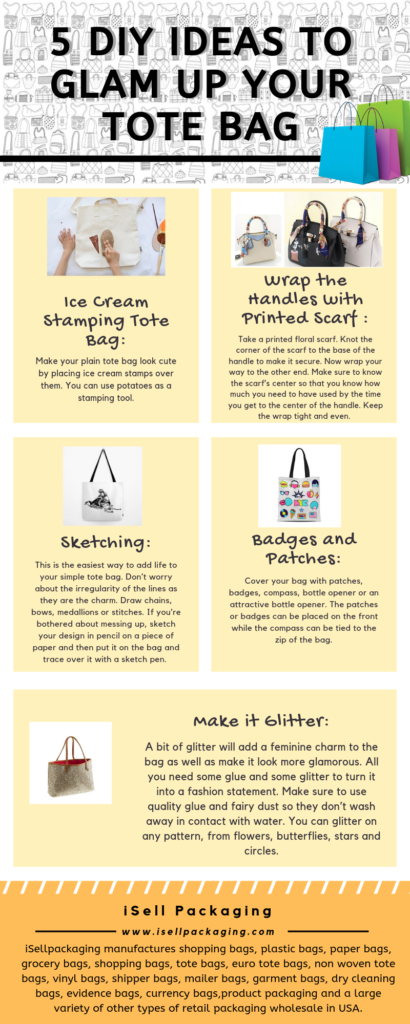 Wrap the Handles with Printed Scarf:
This is a simple yet exciting way to glam up your plain tote bag. Take a printed floral scarf. Knot the corner of the scarf to the base of the handle to make it secure. Now wrap your way to the other end. Make sure to know the scarf's center so that you know how much you need to have used by the time you get to the center of the handle. Keep the wrap tight and even. You should have just enough left over to tie a second knot at the other end. When you reach to that point, you can tuck the loose ends away or leave them out.
Sketching:
This is the easiest way to add life to your simple tote bag. Don't worry about the irregularity of the lines as they are the charm. Draw chains, bows, medallions or stitches. If you're bothered about messing up, sketch your design in pencil on a piece of paper and then put it on the bag and trace over it with a sketch pen. The ink will seep through the paper, providing you a foggy version of your initial sketching. To avoid smudging, let the ink dry fully, then trace over the design again with your paint pen.
Badges and Patches:
Cover your bag with patches, badges, compass, bottle opener or an attractive bottle opener. The patches or badges can be placed on the front while the compass can be tied to the zip of the bag.
Make it Glitter:
A bit of glitter will add a feminine charm to the bag as well as make it look more glamorous. All you need some glue and some glitter to turn it into a fashion statement. Make sure to use quality glue and fairy dust so they don't wash away in contact with water. You can glitter on any pattern, from flowers, butterflies, stars and circles.
So these are some great ideas to spruce up your plain tote bag. What do you think? Please let us know by commenting below.