Big news for the city shoppers- now at least till February, you don't need to pay five cents for plastic shopping bags. Yes, you read it right!
On Tuesday evening, the state Senate passed a bill stating that it would stop the city's shopping bag fee, which was in its tracks recently. It was the speakers of the Assembly and the City Council, making a combined agreement to the delay for the fee's implementation. Now it is extended up to next February.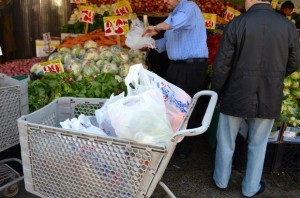 As per the city law, the shoppers were to charge 5 cents per shopping bag. But now the elected officials have put a pause on this so called a "plastic bag fee". This charge was for both plastic and paper bags. It was the assemblyman Michael Cusick who sponsored the state bill to undo the city's law. Along with his senators, it was him to argue that the fee is a tax applied unevenly to certain kinds of shoppers. And, it was nothing more than another tax on the middle class folks. Thus, in an agreement with Assembly Speaker Carl Heastie, it was decided to delay implementation of the fee by the Council Speaker Melissa Mark-Viverito, from October to February.
Now when the anti-fee bill passed the Senate, the next one, i.e. the Assembly bill will be something harder to be. Meanwhile, Mark-Viverito, the Speaker of the New York City Council and the Council member for the 8th District, in a statement said that whether it is about reducing greenhouse gas emissions or strengthening the city's air code, the City Council is proud of the success attained so far and will continue to make similar efforts!