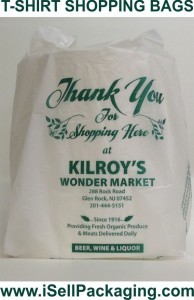 Custom printed t-shirt bags, grocery bags and plastic shopping bags are an inexpensive way to advertise your business, while providing the most cost effective way for your clientele to transport the items they have just purchased from your business. The bag you see here are just a sampling of some of the newest bags we produced for our clients. Lets us make plastic bags for you too. Some are smaller local business like the one you see here for Kilroys Wonder Market. They are a very well known and loved food market featuring some of the most delicious foods prepared and sold anywhere in New Jersey. Kilroy's Wonder Market is located at: 288 Rock Road, Glen Rock, New Jersey 07452 or call them at 201-444-5151. Please visit their website at: kilroyswondermarket
So, why did they choose GPS, because we came up with a comprehensive plan to reduce the amount of bags being used. We increased the thickness of the t-shirt shopping bags by 50%. This means that the consumer no longer has to double bag their items. Giving the shoppers a thicker and stronger bag also means that these t-shirt bags are no longer "single use". Personally speaking, we have always reused our t-shirt bags for waste baskets, in our vehicles and for lunch bags to name a few things. Our plastic bags with handles are quality made and reusable. I'd like to see how many environmentalists are reusing the bags that the loaf of bread came in. Or the small zip lock bags that held their pets treats. Conscientious and responsible users of recyclable bags are everyone's best solution.
However, these bags have come under scrutiny lately as being the root of all pollution problems plaguing the planet. naturally, that is a ridiculous statement. As consumers we ask ourselves which is better for the environment using paper shopping bags, or plastic t-shirt shopping bags. Plastic t-shirt shopping bags have evolved in recent years. There is a effective new additive that can be put into HDPE plastic bags. It helps the polyethylene in the plastic biodegrade. This process takes place aerobically or anaerobically. With or without the presence of light the process works. Landfill conditions which are normally not conducive to bio-degradation, this action can occur. Paper will disintegrate or biodegrade when air and moisture are present, landfills do not have very much of that.
It is said that plastic T-shirt bags are the root cause of litter. In the past they did not degrade at all or were slow to degrade. Today plastic bags can be biodegradable. We do not have to get rid of a misunderstood and good product. A recent newspaper article in a national newspaper states that litter is down in San Francisco due to the ban on grocery store poly t-shirt bags. Is that true or are citizens more sensitive to their actions and acting responsible. High quality t-shirt bags are reusable and recyclable. The are other environmentally friendly packaging available to the public such as non- woven tote bags, cotton shopping bags, euro-tote bags to name a few.
Plastic t-shirt bags can be recycled to produce other plastic bags and products many times over. On the other hand, paper has a limited recyclable life span. The fibers deteriorate. At the end of papers recyclable life it can only be used in fillers. Paper and plastic are easy to recycle these days. Paper costs more and requires more energy to recycle. Plastic bags are ground up, extruded and in minutes are new plastic bags. I say we stop "picking on" the plastic t-shirt bags and start looking at all the other countless products we stuff into these bags at the market. Take a good hard look at all the items that are wrapped, packed, stuffed, labeled, bottled, lined and capped while filling your bags at your local market. How can a reusable plastic t-shirt bag be as bad as the non re-usable ietms? Custom printed t-shirt bags are good for everyone when handled and recycled properly. Additionally, we also make custom printed and plain reusable tote bags and canvas bags for retail locations. Just visit our website at anytime at www.isellpackaging.com