If you are like most flight travelers, you use a lot of plastic stuff—from cans, meal packaging, and cups. Once you are done with them, they are transferred to the bin. That seems a normal thing. Right?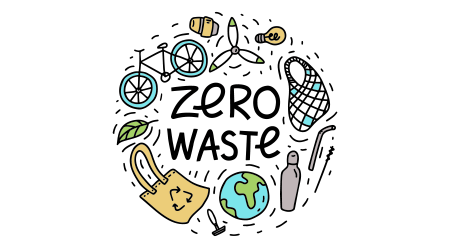 But that's not right.
Did you know that an average passenger creates nearly half a kg of waste per flight? Now calculate how much waste 300 passengers will generate on a typical flight. And the USA has over 5,000 passenger planes in the skies on any given day.
So you must have got an idea that the waste produced on flights often lead to a huge pile. And only 20 percent is recycled out of 75 percent onboard recyclable waste.
Also Read: Interesting Facts about Bubble Wrap
Waste disposal is equally a big concern as quarantine regulations prevent airlines from the recycling of cabin waste from many international flights.
However, plastics are a necessary evil for airlines due to its lightweight that helps them save fuel.
As a passenger, you can play a big role in minimizing plastic waste on the flights. Here's how.
 1. Bring Your Own Water Bottle:
It's a great way to deal with single-use plastic bottles that are a huge part of plastic waste. Customs lets you carry an empty water bottle through the screening. The bottle can be filled up later at bottle refilling stations available at most airports. And there is no restriction on  a full bottle of water on the plane. You can ask a steward to refill the bottle on the plane.
 2. Use Your Own Reusable Utensils:
Travel with a little set of reusable utensils in your backpack instead of using disposables on the flight. A reusable utensil generally includes a knife, fork, spoon, chopsticks and glass drinking straws.
 3. Bring Your Own Food and Snacks Onto Plane:
The food and drinks you receive on board are generally wrapped up in a lot of plastic packaging. Top of that, they are expensive and have chemicals seeping from the plastic wrap.
Therefore, it is a wise and nice idea to carry your own snacks and food. Many airlines will let you bring your own food. Make sure to pack your food in reusable containers.
Also Read: An Insider's Guide to Poly Mailers
 4. Travel Pillow:
Airline travel pillows are made of plastic and for single use only. They are discarded after being used for sanitary reasons. They are also sealed in plastic packaging. Why not bring your travel pillow to avoid such wastage?
 5. Use Reusable Containers to Keep Your Personal Care Products
Use a reusable container to carry your personal care products like shampoo, conditioner, toothpaste, and lotion. Minimize your purchase of duty-free products as they are packed in a sealed plastic bag for security reasons. Some glass bottles come packed in foam nets that are also made from plastic. Therefore, buy all the products from a local store. However, make sure to learn about the custom guidelines regarding your purchase.
So these are the tips to reduce plastic waste on the flight. Your little contribution can make a big difference. Besides, educate others for the same. What do you think? Do you have other ideas to share with us? Please let us know by commenting below!